Beraeodes minutus (Linnaeus, 1761)
Beraeodes minutus is one of three members of the Family Beraeidae found in Ireland, and the sole representative of the genus Beraeodes. It is a species whose larvae can be found amongst the roots of vegetation along the edges of rivers, streams, ponds and lakes, showing little preference for a particular flow regime. The larval case is curved and tapering, and made of sand grains.
The feeding ecology of the larvae of Beraeodes minutus is entirely grazing.
Characteristic features of the larva of Beraeodes minutus include long, slender antennae, 3rd legs long, head largely dark and pronotum with a dark mosaic pattern.
Adults of Beraeodes minutus can be found on the wing in Ireland in May, though this is based on limited records.
For details of published records of Beraeodes minutus, visit the National Biodiversity Data Centre page here.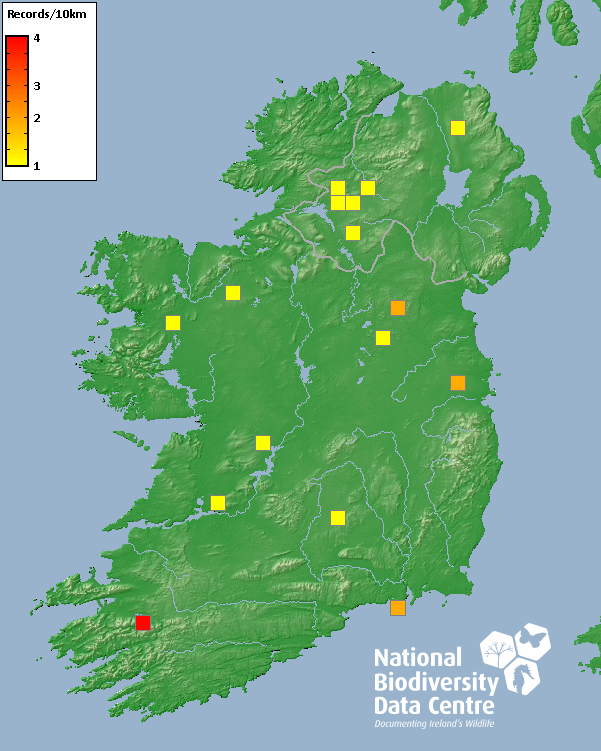 References
Barnard, P. and Ross, E. (2012) The Adult Trichoptera (Caddisflies) of Britain and Ireland. RES Handbook Volume 1, Part 17.
Graf, W., Murphy, J., Dahl, J., Zamora-Muñoz, C. and López-Rodríguez, M.J. (2008) Distribution and Ecological Preferences of European Freshwater Species. Volume 1: Trichoptera. Astrid Schmidt-Kloiber & Daniel Hering (eds). Pensoft, Sofia-Moscow.
O'Connor, J.P. (2015) A Catalogue and Atlas of the Caddisflies (Trichoptera) of Ireland. Occasional Publication of the Irish Biogeographical Society, No. 11.
Wallace, I.D., Wallace, B. and Philipson, G.N. (2003) Keys to the Case-bearing Caddis Larvae of Britain and Ireland. Scientific Publication of the Freshwater Biological Association No. 61.
Last updated: 09/04/2018