Species profile: Psychomyia fragilis
January 17, 2017
Psychomyia fragilis (Pictet, 1834)
Psychomyia fragilis is one of nine members of the Family Psychomyiidae found in Ireland, and one of two members of the genus Psychomyia. It is a species whose larvae can be found in lakes, rivers and streams on a substratum of gravel to boulders, building galleries on rock surfaces in standing or slow-moving water. The species shows a preference for neutral to alkaline water.
In terms of feeding ecology, the larvae are predominantly grazers, with some gathering and passive filter feeding.
Defining features of the larvae of Psychomyia fragilis include a lack of abdominal gills, labrum comprising a sclerotized plate, lateral plates on the 2nd and 3rd thoracic segments small, anal prolegs with almost no basal membranous section, pronotum with a black thickening towards the posterior-lateral corner, and a smooth, brown mentum with no ornamentation.
The adults of Psychomyia fragilis can be found on the wing in June to September.
For details of records of Psychomyia fragilis (listed by its synonym Metalype fragilis), visit the National Biodiversity Data Centre page here.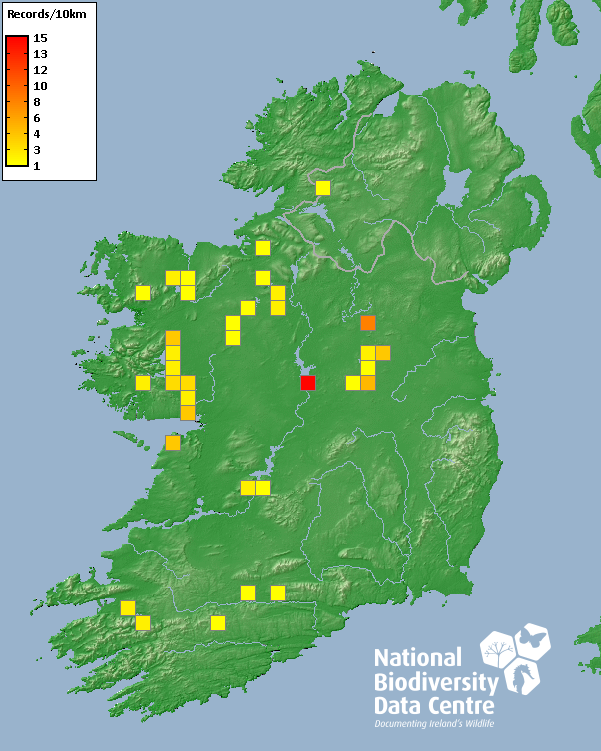 References
Barnard, P. and Ross, E. (2012) The Adult Trichoptera (Caddisflies) of Britain and Ireland. RES Handbook Volume 1, Part 17.
Edington, J.M. and Hildrew, A.G. (1995) A Revised Key to the Caseless Caddis Larvae of the British Isles: with notes on their ecology. Freshwater Biological Association Special Publication No. 53.
Graf, W., Murphy, J., Dahl, J., Zamora-Muñoz, C. and López-Rodríguez, M.J. (2008) Distribution and Ecological Preferences of European Freshwater Species. Volume 1: Trichoptera. Astrid Schmidt-Kloiber & Daniel Hering (eds). Pensoft, Sofia-Moscow.
O'Connor, J.P. (2015) A Catalogue and Atlas of the Caddisflies (Trichoptera) of Ireland. Occasional Publication of the Irish Biogeographical Society, No. 11.
Last updated: 08/04/2018