Species profile: Lype phaeopa
January 16, 2017
Lype phaeopa (Stephens, 1836)
Lype phaeopa is one of nine members of the Family Psychomyiidae found in Ireland, and one of two members of the genus Lype. It is a species whose larvae can be found in streams, rivers, ponds and lakes on a substratum of woody debris, building galleries of wood fragments and sand held together by silk. The species has no preference with regard to current, but shows a preference for neutral to alkaline water and can occur in brackish water.
In terms of feeding ecology, the larvae are mainly grazers, with some feeding on woody debris.
Defining features of the larvae of Lype phaeopa include a lack of abdominal gills, labrum comprising a sclerotized plate, lateral plates on the 2nd and 3rd thoracic segments small, anal prolegs with almost no basal membranous section, pronotum lacking black thickening towards the posterior-lateral corner, anterior section of coxopleurite with one vertical black bar and a frontoclypeus with a rather uniform colour.
The adults of Lype phaeopa can be found on the wing in April to September.
For details of records of Lype phaeopa, visit the National Biodiversity Data Centre page here.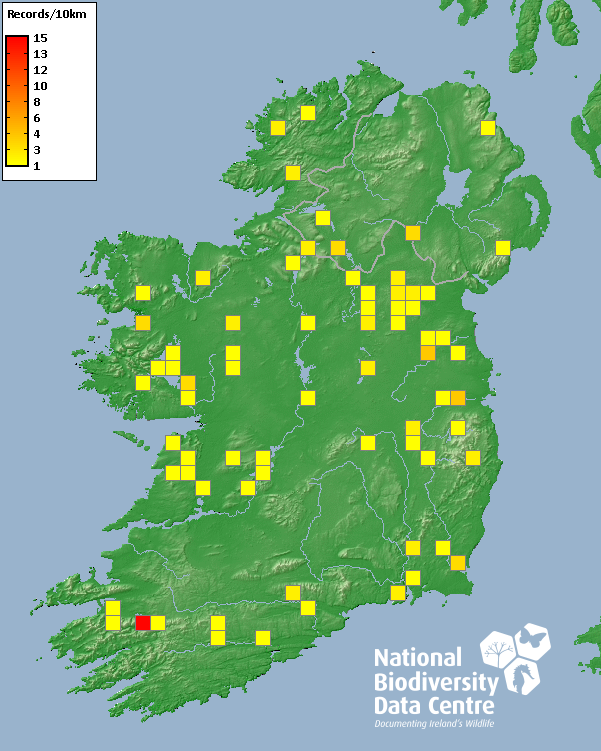 References
Barnard, P. and Ross, E. (2012) The Adult Trichoptera (Caddisflies) of Britain and Ireland. RES Handbook Volume 1, Part 17.
Graf, W., Murphy, J., Dahl, J., Zamora-Muñoz, C. and López-Rodríguez, M.J. (2008) Distribution and Ecological Preferences of European Freshwater Species. Volume 1: Trichoptera. Astrid Schmidt-Kloiber & Daniel Hering (eds). Pensoft, Sofia-Moscow.
O'Connor, J.P. (2015) A Catalogue and Atlas of the Caddisflies (Trichoptera) of Ireland. Occasional Publication of the Irish Biogeographical Society, No. 11.
Wallace, I.D., Wallace, B. and Philipson, G.N. (2003) Keys to the Case-bearing Caddis Larvae of Britain and Ireland. Scientific Publication of the Freshwater Biological Association No. 61.
Last updated: 08/04/2018