Species profile: Ceraclea senilis
January 9, 2017
Ceraclea senilis (Burmeister, 1839)
Ceraclea senilis is one of 24 members of the Family Leptoceridae found in Ireland, and one of six members of the genus Ceraclea. It is a species whose larvae can be found on a substratum of sponges on rocks and woody debris, in standing or slow-flowing water. The case of Ceraclea senilis is made of secreted translucent material and sponge spicules, often incorporating fragments of living sponge. The species has a preference for neutral to alkaline waters, and can tolerate brackish water.
In temperate areas, Ceraclea senilis has a univoltine (one generation per year) reproductive cycle, and lives for up to one year. The larvae feed on sponges.
Defining features of the larvae of Ceraclea senilis include a mesonotum with dark, curved posterior-lateral projections, mandibles no more than twice as long as wide, a quadrangular ventral apotome (though small larvae may have a squat, rounded triangle-shaped apotome), mesoventer with one seta on each side, pronotum without dark band along the anterior edge, head with muscle attachment spots and anal proleg claws with one accessory hook.
The adults of Ceraclea senilis can be found on the wing from (May) June to October.
For details of records of Ceraclea senilis, visit the National Biodiversity Data Centre page here.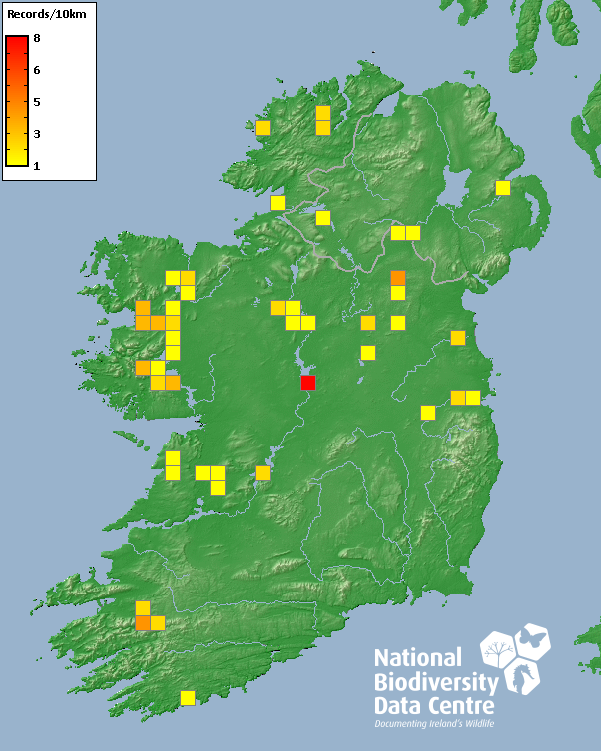 References
Barnard, P. and Ross, E. (2012) The Adult Trichoptera (Caddisflies) of Britain and Ireland. RES Handbook Volume 1, Part 17.
Graf, W., Murphy, J., Dahl, J., Zamora-Muñoz, C. and López-Rodríguez, M.J. (2008) Distribution and Ecological Preferences of European Freshwater Species. Volume 1: Trichoptera. Astrid Schmidt-Kloiber & Daniel Hering (eds). Pensoft, Sofia-Moscow.
O'Connor, J.P. (2015) A Catalogue and Atlas of the Caddisflies (Trichoptera) of Ireland. Occasional Publication of the Irish Biogeographical Society, No. 11.
Wallace, I.D., Wallace, B. and Philipson, G.N. (2003) Keys to the Case-bearing Caddis Larvae of Britain and Ireland. Scientific Publication of the Freshwater Biological Association No. 61.
Last updated: 09/04/2018