Species profile: Athripsodes albifrons
August 11, 2016
Athripsodes albifrons (Linnaeus, 1758)
Athripsodes albifrons is one of 24 members of the Family Leptoceridae found in Ireland, and one of five members of the genus Athripsodes. It is a species whose larvae can be found in large streams, rivers, and lake shores, on a substratum of fine gravel to cobble. Athripsodes albifrons has a curved case made of sand.
In temperate areas, Athripsodes albifrons has a univoltine (one generation per year) reproductive cycle, and lives for up to one year. In terms of feeding, this species mainly a shredder, with some gathering and predation.
Defining features of the larvae of Athripsodes albifrons include a mesonotum with dark, curved posterior-lateral projections, mandibles no more than twice as long as wide, a triangular ventral apotome, no dagger-shaped setae on the anterior face of the 3rd leg trochanter and femur, and the ventral edge of the tibia of the 1st leg with 1-2 setae in addition to the single strong setae at the distal corner.
The adults of Athripsodes albifrons are distinctive, having brown wings with four white marks and a white patch of hair on the head (hence albifrons); however, the form interjectus has black wings, which fade to brown after death. They can be found on the wing from June to September.
For details of records of Athripsodes albifrons, visit the National Biodiversity Data Centre page here.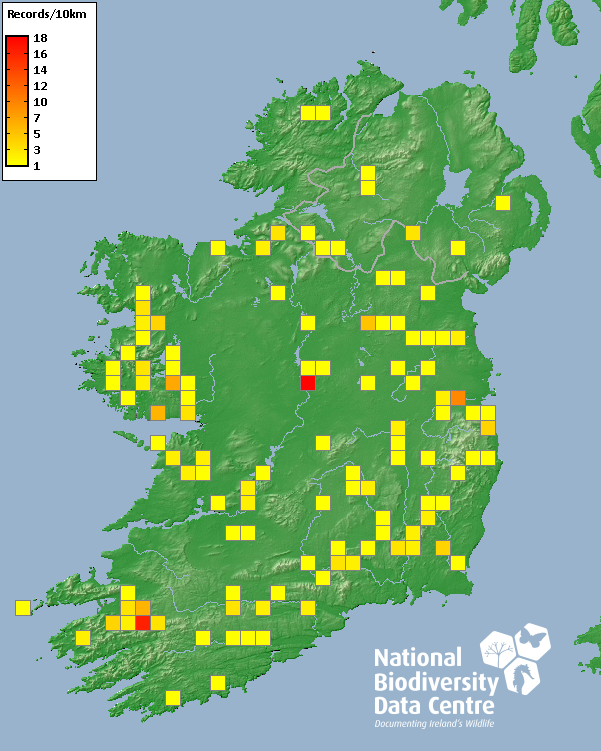 References
Barnard, P. and Ross, E. (2012) The Adult Trichoptera (Caddisflies) of Britain and Ireland. RES Handbook Volume 1, Part 17.
Graf, W., Murphy, J., Dahl, J., Zamora-Muñoz, C. and López-Rodríguez, M.J. (2008) Distribution and Ecological Preferences of European Freshwater Species. Volume 1: Trichoptera. Astrid Schmidt-Kloiber & Daniel Hering (eds). Pensoft, Sofia-Moscow.
O'Connor, J.P. (2015) A Catalogue and Atlas of the Caddisflies (Trichoptera) of Ireland. Occasional Publication of the Irish Biogeographical Society, No. 11.
Wallace, I.D., Wallace, B. and Philipson, G.N. (2003) Keys to the Case-bearing Caddis Larvae of Britain and Ireland. Scientific Publication of the Freshwater Biological Association No. 61.
Last updated: 09/04/2018