Species profile: Oxyethira simplex
July 20, 2016
Oxyethira simplex Ris, 1897
Oxyethira simplex is one of 25 members of the Family Hydroptilidae found in Ireland, and one of six members of the genus Oxyethira. It is a species whose larvae can be found in streams, rivers and lakes. Oxyethira simplex has a case made of silk secretions, which is laterally compressed and has a narrow anterior opening and broad posterior opening. Only the final instar has a case, and is very different from the earlier instars.
The larvae of most Hydroptilid species are not described. Defining features of the final instar of the larvae of the genus Oxyethira is the absence of dorsal and ventral ovoid processes on the abdomen, no lateral protuberances on the 2nd abdominal segment, no median sclerotized point on the labrum, 2nd and 3rd legs 2-3 times as long as 1st leg, and a case as above.
Adults of Oxyethira simplex can be found on the wing from June to September.
Records of Oxyethira simplex on the National Biodiversity Data Centre mapping system can be found here.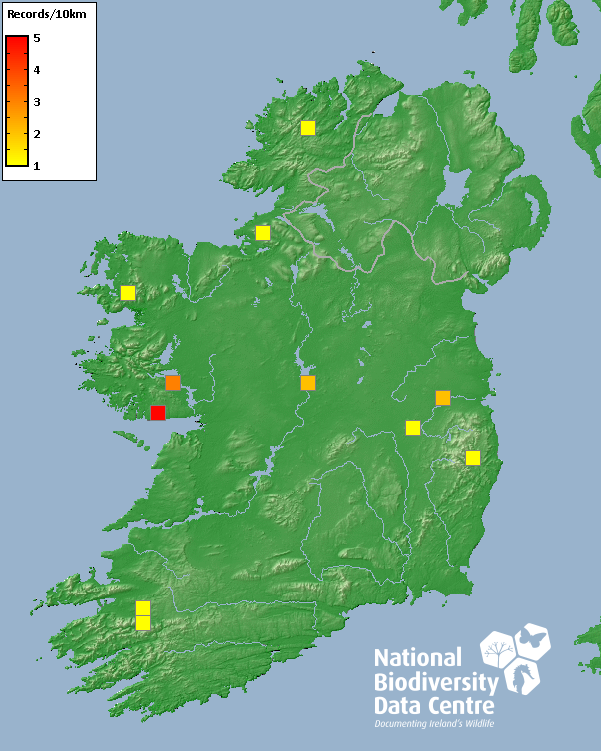 References
Barnard, P. and Ross, E. (2012) The Adult Trichoptera (Caddisflies) of Britain and Ireland. RES Handbook Volume 1, Part 17.
O'Connor, J.P. (2015) A Catalogue and Atlas of the Caddisflies (Trichoptera) of Ireland. Occasional Publication of the Irish Biogeographical Society, No. 11.
Wallace, I.D., Wallace, B. and Philipson, G.N. (2003) Keys to the Case-bearing Caddis Larvae of Britain and Ireland. Scientific Publication of the Freshwater Biological Association No. 61.
Last updated: 15/03/2018