Species profile: Beraea maurus
June 19, 2016
Beraea maurus (Curtis, 1834)
Beraea maurus is one of three members of the Family Beraeidae found in Ireland, and one of two representatives of the genus. It is a species whose larvae can be found in springs and trickles on moss and fallen leaves. The larval case is curved and made of sand grains.
Beraea maurus has a semivoltine reproductive cycle (one generation in two year) in temperate regions and lives more than one year. Its feeding ecology is mainly shredding of fallen leaves and plant material, with some grazing.
Characteristic features of the larva of Beraea maurus include the presence of a ventral brush of setae on the anal proleg just below the claw (which has two erect accessory hooks), pronotum with a broadly rounded 'flap' on the anterior-lateral corner with an associated ridge, and a dorsal process on the anal leg which has two setae, one half as long as the other.
Adults of Beraea maurus can be found on the wing from June to August.
For details of published records of Beraea maurus, visit the National Biodiversity Data Centre page here.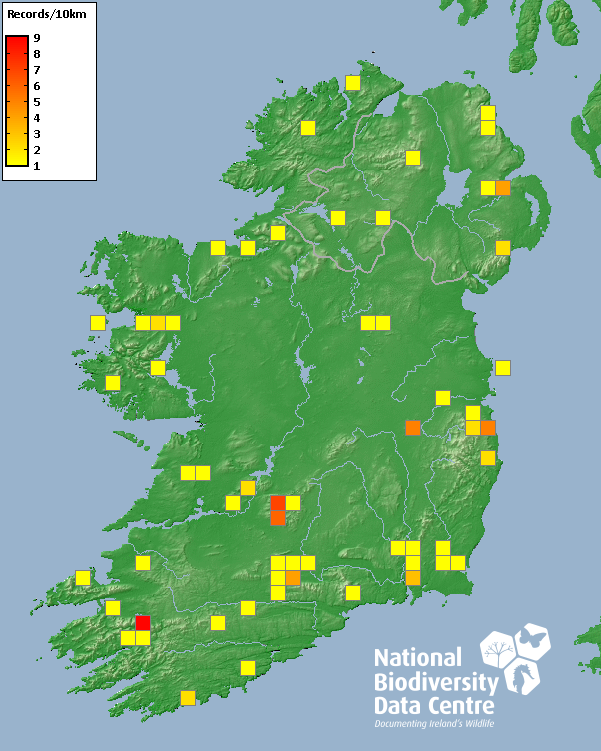 References
Barnard, P. and Ross, E. (2012) The Adult Trichoptera (Caddisflies) of Britain and Ireland. RES Handbook Volume 1, Part 17.
Graf, W., Murphy, J., Dahl, J., Zamora-Muñoz, C. and López-Rodríguez, M.J. (2008) Distribution and Ecological Preferences of European Freshwater Species. Volume 1: Trichoptera. Astrid Schmidt-Kloiber & Daniel Hering (eds). Pensoft, Sofia-Moscow.
O'Connor, J.P. (2015) A Catalogue and Atlas of the Caddisflies (Trichoptera) of Ireland. Occasional Publication of the Irish Biogeographical Society, No. 11.
Wallace, I.D., Wallace, B. and Philipson, G.N. (2003) Keys to the Case-bearing Caddis Larvae of Britain and Ireland. Scientific Publication of the Freshwater Biological Association No. 61.
Last updated: 09/04/2018