Species profile: Apatania auricula
February 16, 2016
Apatania auricula (Forsslund, 1930)
Apatania auricula is one of three members of the Family Apataniidae, and of the genus Apatania, found in Ireland. It is not found in Britain. It is a species whose larvae can be found on stony lake shores in the south-west, on a substratum ranging from gravel to boulders and bedrock.
Characteristic features of the larva of Apatania auricula include the presence of a prosternal horn visible on the ventral side of the pronotum (can be difficult to see without manipulating the legs), a dorsal protuberance on the 1st abdominal segment, lack of folds on the ventral apotome, single gill filaments on the abdomen, a lack of anterior-median sclerites, mandibles lacking teeth, dagger-shaped setae on the anterior edge of the pronotum, only 5 setae along the posterior edge of the lateral sclerite of the anal proleg and usually with a posterior-dorsal gill on the 1st abdominal segment.
Adults of Apatania auricula can be found on the wing from January to May and July to November.
Records of Apatania auricula on the National Biodiversity Data Centre website can be found here.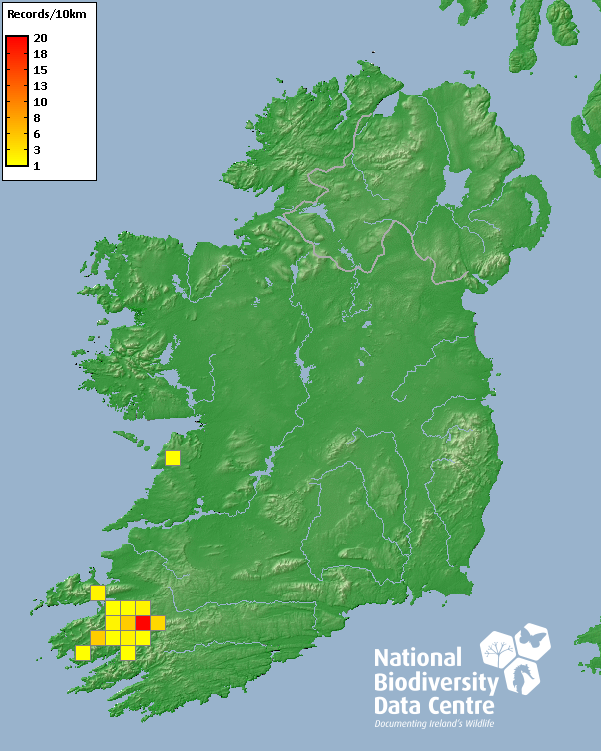 References
Barnard, P. and Ross, E. (2012) The Adult Trichoptera (Caddisflies) of Britain and Ireland. RES Handbook Volume 1, Part 17.
Graf, W., Murphy, J., Dahl, J., Zamora-Muñoz, C. and López-Rodríguez, M.J. (2008) Distribution and Ecological Preferences of European Freshwater Species. Volume 1: Trichoptera. Astrid Schmidt-Kloiber & Daniel Hering (eds). Pensoft, Sofia-Moscow.
O'Connor, J.P. (2015) A Catalogue and Atlas of the Caddisflies (Trichoptera) of Ireland. Occasional Publication of the Irish Biogeographical Society, No. 11.
Wallace, I.D., Wallace, B. and Philipson, G.N. (2003) Keys to the Case-bearing Caddis Larvae of Britain and Ireland. Scientific Publication of the Freshwater Biological Association No. 61.
Last updated: 08/04/2018