Species profile: Agrypnia varia
January 19, 2016
Agrypnia varia (Fabricius, 1793)
Agrypnia varia is one of eight members of the Family Phryganeidae found in Ireland, and one of three representatives of the genus. It is a species whose larvae can be found in the littoral zone of still waters including lakes and ponds. Its substratum preference includes mud, plants, particulate organic matter and woody debris. The species shows no preference for a particular pH, and can occur in brackish waters.
Agrypnia varia has a univoltine reproductive cycle (one generation per year) in temperate regions and lives less than one year. Its feeding ecology is mainly predatory, with some grazing/scraping and gathering of fine particulate organic matter (FPOM).
Characteristic features of the larva of Agrypnia varia include the largely unsclerotized mesodorsum and metadorsum, the presence of lateral and dorsal protuberances on the 1st abdominal segment, the strongly banded head with the side bands meeting at the back of the head and running forward as far as the jaws, the presence of a prosternite, a pronotum with a continuous black band traversing the anterior margin, and the narrow band of coxal combs on the ventral surface of the 1st and 2nd legs, which are attached transversely, longitudinally and at intermediate angles.
Adults of Agrypnia varia can be found on the wing from (May-June) July to October.
Records of Agrypnia varia on the National Biodiversity Data Centre website can be found here.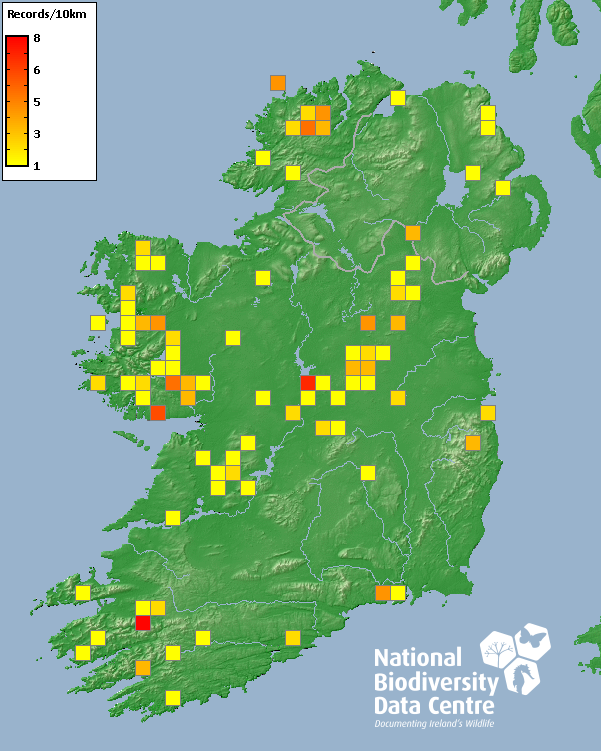 References
Barnard, P. and Ross, E. (2012) The Adult Trichoptera (Caddisflies) of Britain and Ireland. RES Handbook Volume 1, Part 17.
Graf, W., Murphy, J., Dahl, J., Zamora-Muñoz, C. and López-Rodríguez, M.J. (2008) Distribution and Ecological Preferences of European Freshwater Species. Volume 1: Trichoptera. Astrid Schmidt-Kloiber & Daniel Hering (eds). Pensoft, Sofia-Moscow.
O'Connor, J.P. (2015) A Catalogue and Atlas of the Caddisflies (Trichoptera) of Ireland. Occasional Publication of the Irish Biogeographical Society, No. 11.
Wallace, I.D., Wallace, B. and Philipson, G.N. (2003) Keys to the Case-bearing Caddis Larvae of Britain and Ireland. Scientific Publication of the Freshwater Biological Association No. 61.
Last updated: 05/06/2018