Hydropsyche pellucidula (Curtis, 1834)
Hydropsyche pellucidula is one of eight members of the Family Hydropsychidae found in Ireland, and one of six of the genus Hydropsyche. It is a species whose larvae can be found along much of a river's course, with the exception of the upper reaches. Its substratum preference ranges from coarse gravel to boulders and bedrock, but includes plant material and woody debris, in areas with moderate to high current velocities. Its preference is for acidic waters.
Hydropsyche pellucidula lives up to one year and has a univoltine reproductive cycle (one generation per year) in temperate areas. Its feeding ecology is mainly passive filter feeding, with some predation and grazing.
Characteristic features of the larva of Hydropsyche pellucidula include the presence of large, rectangular dorsal plates on all three thoracic segments, tufted gills on the abdominal segments up to and including the 7th segment, the lack of long bristles on the front margin of the pronotum, partially pigmented posterior prosternites, a frontoclypeal pattern of separated aboral and lateral marks, a Y- or bar- shaped aboral mark and a V-shaped frontoclypeus.
Adults of Hydropsyche pellucidula can be found on the wing from May to September.
Records of Hydropsyche pellucidula on the National Biodiversity Data Centre website can be found here.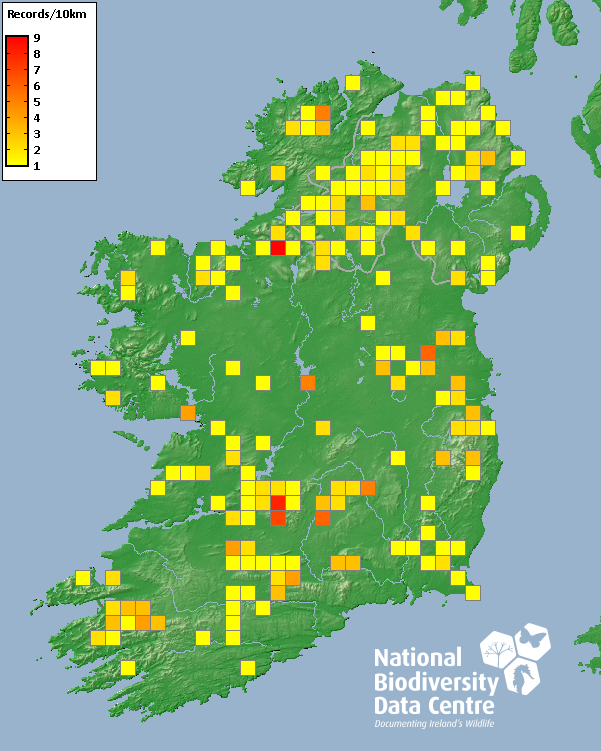 References
Barnard, P. and Ross, E. (2012) The Adult Trichoptera (Caddisflies) of Britain and Ireland. RES Handbook Volume 1, Part 17.
Edington, J.M. and Hildrew, A.G. (1995) A Revised Key to the Caseless Caddis Larvae of the British Isles: with notes on their ecology. Freshwater Biological Association Special Publication No. 53.
O'Connor, J.P. (2015) A Catalogue and Atlas of the Caddisflies (Trichoptera) of Ireland. Occasional Publication of the Irish Biogeographical Society, No. 11.
Graf, W., Murphy, J., Dahl, J., Zamora-Muñoz, C. and López-Rodríguez, M.J. (2008) Distribution and Ecological Preferences of European Freshwater Species. Volume 1: Trichoptera. Astrid Schmidt-Kloiber & Daniel Hering (eds). Pensoft, Sofia-Moscow.
Last updated: 09/02/2019