Species profile: Odontocerum albicorne
February 13, 2015
Odontocerum albicorne (Scopoli, 1763)
Odontocerum albicorne is the only member of the Family Odontoceridae found in Ireland, and indeed the sole representative of the family in Britain and Ireland. It is a species whose larvae can be found in stony rivers and streams. Its substratum preference ranges from sand to boulders and bedrock, while it can also be found in woody debris. Odontocerum albicorne has a rather distinctive case, made of sand grains, but is notable in that, rather than the sand grains being attached to an inner silk tube, each sand grain is connected to the next by silk and reinforced with silk braces. The posterior of the case is closed off by a pebble. The species has a preference for neutral waters.
Odontocerum albicorne has a univoltine reproductive cycle (one generation a year) and lives longer than one year. Its feeding ecology includes predation, grazing and shredding.
The larva of Odontocerum albicorne are similar to those of Sericostoma personatum. Separating features of Odontocerum albicorne include the lack of accessory hooks on the claws of the anal proleg and distinct, anchor-shaped mark on the pale fronto-clypeal apotome.
A distinctive feature of the adult of the species is the toothed antennae, visible from certain angles.
Adults of Odontocerum albicorne can be found on the wing from May to September.
Records of Odontocerum albicorne on the National Biodiversity Data Centre website can be found here.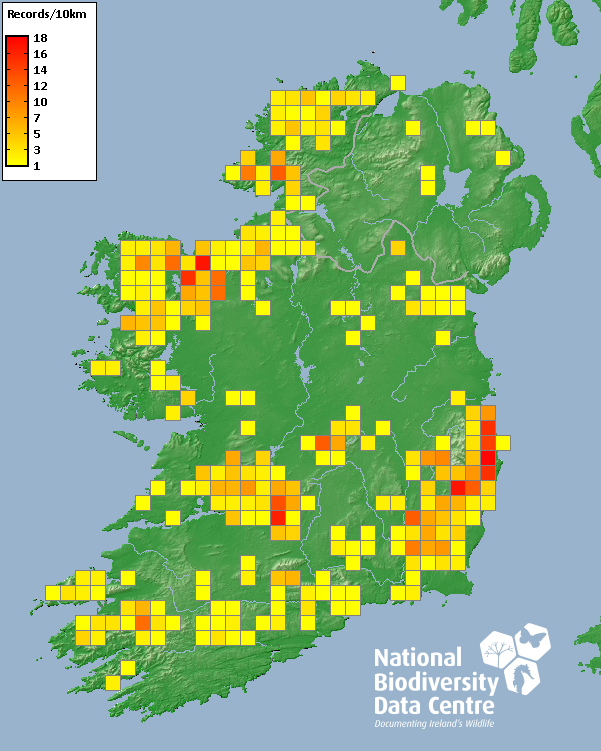 References
Barnard, P. and Ross, E. (2012) The Adult Trichoptera (Caddisflies) of Britain and Ireland. RES Handbook Volume 1, Part 17.
Barnard, P. and Ross E. (2008) Guide to the adult caddisflies or sedge flies (Trichoptera).Field Studies Council AIDGAP. ISBN 978-1-85153-241-4.
Graf, W., Murphy, J., Dahl, J., Zamora-Muñoz, C. and López-Rodríguez, M.J. (2008) Distribution and Ecological Preferences of European Freshwater Species. Volume 1: Trichoptera. Astrid Schmidt-Kloiber & Daniel Hering (eds). Pensoft, Sofia-Moscow.
O'Connor, J.P. (2015) A Catalogue and Atlas of the Caddisflies (Trichoptera) of Ireland. Occasional Publication of the Irish Biogeographical Society, No. 11.
Wallace, I.D., Wallace, B. and Philipson, G.N. (2003) Keys to the Case-bearing Caddis Larvae of Britain and Ireland. Scientific Publication of the Freshwater Biological Association No. 61.
Last updated: 09/04/2018