Species profile: Goera pilosa
February 4, 2015
Goera pilosa (Fabricius, 1775)
Goera pilosa is one of three members of the Family Goeridae, and the sole representative of the genus Goera, found in Ireland. It is a species whose larvae can be found in rivers, streams and lakes with a substratum preference ranging from coarse gravel to boulders and bedrock. Goera pilosa has a tubular case made of sand grains, with large ballast stones attached along the side.
In terms of feeding, this species is largely a grazer/scraper, though some gathering/collecting is evident.
The larvae of the Family Goeridae are easily recognisable due to the presence of an anterior process on the mesopleurite that extends free from the body wall and also the construction of the case, with its large ballast stones along the side. The larvae of Goera pilosa can be separated from the genus Silo by the bluntly pointed shape of the mesonotal lateral sclerites (adjacent to the mesopleurite) and the bulbous shape of the posterior of the fronto-clypeal apotome.
Adults of Goera pilosa can be found on the wing from May to September.
Records of Goera pilosa on the National Biodiversity Data Centre mapping system can be found here.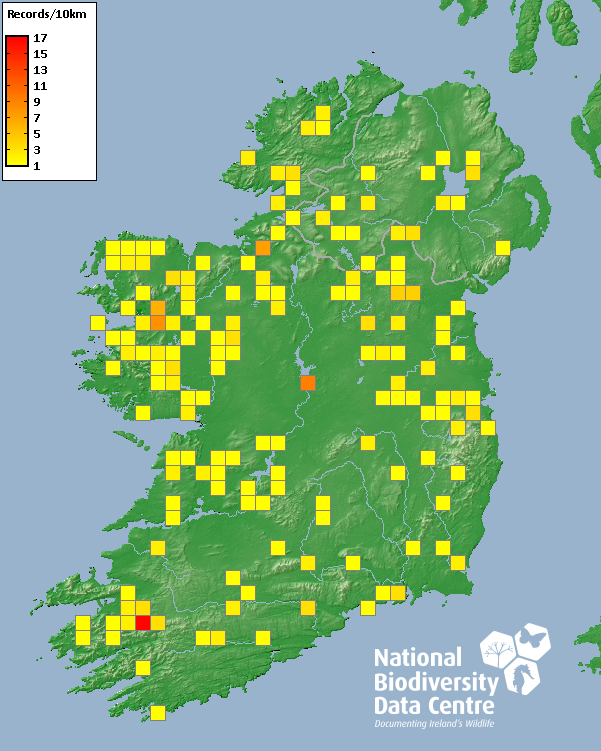 References
Barnard, P. and Ross, E. (2012) The Adult Trichoptera (Caddisflies) of Britain and Ireland. RES Handbook Volume 1, Part 17.
Graf, W., Murphy, J., Dahl, J., Zamora-Muñoz, C. and López-Rodríguez, M.J. (2008) Distribution and Ecological Preferences of European Freshwater Species. Volume 1: Trichoptera. Astrid Schmidt-Kloiber & Daniel Hering (eds). Pensoft, Sofia-Moscow.
O'Connor, J.P. (2015) A Catalogue and Atlas of the Caddisflies (Trichoptera) of Ireland. Occasional Publication of the Irish Biogeographical Society, No. 11.
Wallace, I.D., Wallace, B. and Philipson, G.N. (2003) Keys to the Case-bearing Caddis Larvae of Britain and Ireland. Scientific Publication of the Freshwater Biological Association No. 61.
Last updated: 08/04/2018