Species profile: Ecnomus tenellus
January 30, 2015
Ecnomus tenellus(Rambur, 1842)
Ecnomus tenellus is only members of the Family Ecnomidae found in Ireland. This species can be found in still and sometimes slow-moving water of lakes and rivers. It is a free-living species and so does not build a case like many other caddisfly larvae, feeding almost entirely by active predation will a small amount of passive filter feeding. In temperate latitudes, Ecnomus tenellus exhibits a univoltine reproductive pattern and has a lifespan of up to one year.
The larvae of Ecnomus tenellus can be identified by its lack of gills and the presence of large, hard, sclerotized plates on the 2nd & 3rd thoracic segments, which are rectangular in shape. The species has a prominent lateral fringe along the abdominal segments.
Adults of Ecnomus tenellus can be found on the wing from June to October.
Records of Ecnomus tenellus on the National Biodiversity Data Centre website can be found here.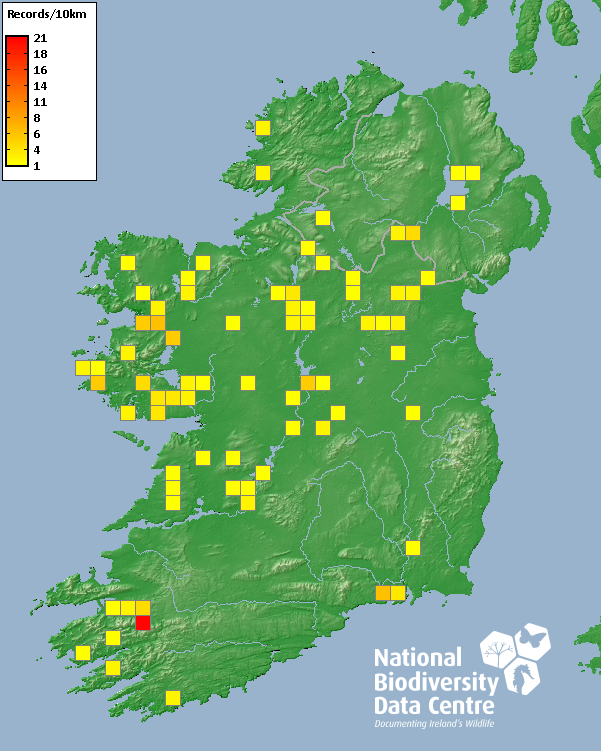 References
Barnard, P. and Ross, E. (2012) The Adult Trichoptera (Caddisflies) of Britain and Ireland. RES Handbook Volume 1, Part 17.
Edington, J.M. and Hildrew, A.G. (1995) A Revised Key to the Caseless Caddis Larvae of the British Isles: with notes on their ecology. Freshwater Biological Association Special Publication No. 53.
Graf, W., Murphy, J., Dahl, J., Zamora-Muñoz, C. and López-Rodríguez, M.J. (2008) Distribution and Ecological Preferences of European Freshwater Species. Volume 1: Trichoptera. Astrid Schmidt-Kloiber & Daniel Hering (eds). Pensoft, Sofia-Moscow.
O'Connor, J.P. (2015) A Catalogue and Atlas of the Caddisflies (Trichoptera) of Ireland. Occasional Publication of the Irish Biogeographical Society, No. 11.
Last updated: 08/04/2018