Species profile: Agraylea multipunctata
January 30, 2015
Agraylea multipunctata Curtis, 1834
Agraylea multipunctata is one of 25 members of the Family Hydroptilidae found in Ireland, and one of two representatives of the genus, along with Agraylea sexmaculata. This species can be found in still and slow-moving water of lakes and rivers, as well as weedy ponds and is habitat specialist of algae. The species inhabits a laterally flattened, seed-like case incorporating algal filaments separated by secreted material. Agraylea multipunctata is thought to exhibit a bivoltine reproductive pattern.
The larvae of the genus Agraylea are separated from other hydroptilids by the lack of dorsal and ventral processes, the presence of a laterally flattened case comprised of algal filaments, the relatively short 2nd and 3rd legs, and the lack of gill filaments on the anal proleg. The separation of A. multipunctata from A. sexmaculata is based on the presence of a distinct pattern of spots on the mesonotum and metanotum of the latter, while the former has a band of colour at the posterior of the mesonotum and metanotum (and sometimes the head and pronotum).
Adults of Agraylea multipunctata can be found on the wing from April to October.
Records of Agraylea multipunctata on the National Biodiversity Data Centre website can be found here.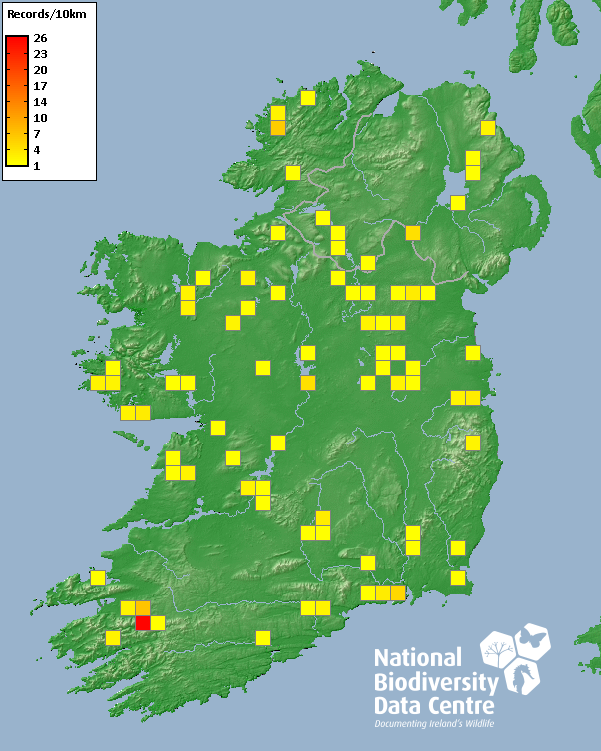 References
Barnard, P. and Ross, E. (2012) The Adult Trichoptera (Caddisflies) of Britain and Ireland. RES Handbook Volume 1, Part 17.
Graf, W., Murphy, J., Dahl, J., Zamora-Muñoz, C. and López-Rodríguez, M.J. (2008) Distribution and Ecological Preferences of European Freshwater Species. Volume 1: Trichoptera. Astrid Schmidt-Kloiber & Daniel Hering (eds). Pensoft, Sofia-Moscow.
O'Connor, J.P. (2015) A Catalogue and Atlas of the Caddisflies (Trichoptera) of Ireland. Occasional Publication of the Irish Biogeographical Society, No. 11.
Wallace, I.D., Wallace, B. and Philipson, G.N. (2003) Keys to the Case-bearing Caddis Larvae of Britain and Ireland. Scientific Publication of the Freshwater Biological Association No. 61.
Last updated: 14/03/2018