Chimarra marginata (Linnaeus, 1767)
Chimarra marginata is one of five members of the Family Philopotamidae found in Ireland, and the only member of the genus Chimarra. It is a species whose larvae can be found in larger streams and rivers than the other species in the family, with a substratum preference ranging from coarse gravel to boulders and bedrock.
This species feeds via passive filter feeding, spinning net to catch particulate organic matter.
Notable features of the larvae of Chimarra marginata include presence of a white, membranous structure with a brush-like anterior margin rather than a sclerotized, plate-like labrum that is typical of caddisfly larvae. The species is separated other species in the family by the presence of a deep U-shaped notch in the fronto-clypeus (anterior margin of the head capsule).
Adults of Chimarra marginata can be found on the wing from June to October.
Records for Chimarra marginata on the National Biodiversity Data Centre mapping system can be found here.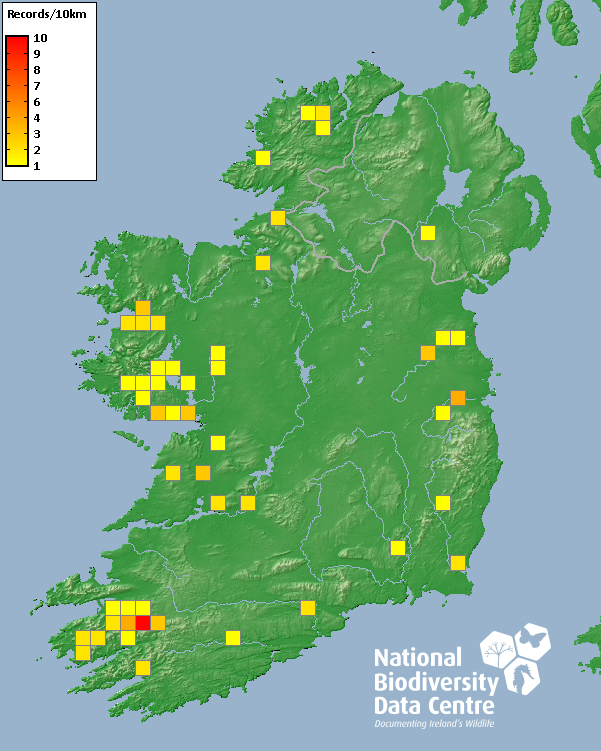 References
Barnard, P. and Ross, E. (2012) The Adult Trichoptera (Caddisflies) of Britain and Ireland. RES Handbook Volume 1, Part 17.
Edington, J.M. and Hildrew, A.G. (1995) A Revised Key to the Caseless Caddis Larvae of the British Isles: with notes on their ecology. Freshwater Biological Association Special Publication No. 53.
Graf, W., Murphy, J., Dahl, J., Zamora-Muñoz, C. and López-Rodríguez, M.J. (2008) Distribution and Ecological Preferences of European Freshwater Species. Volume 1: Trichoptera. Astrid Schmidt-Kloiber & Daniel Hering (eds). Pensoft, Sofia-Moscow.
O'Connor, J.P. (2015) A Catalogue and Atlas of the Caddisflies (Trichoptera) of Ireland. Occasional Publication of the Irish Biogeographical Society, No. 11.
Prof. Hans Malicky. Chimarra marginata (Linnaeus, 1767). Accessed through: Fauna Europaea at http://www.faunaeur.org/full_results.php?id=411063 on 03/11/2014.
Last updated: 15/03/2018