Species profile: Sericostoma personatum
August 28, 2014
Sericostoma personatum (Kirby & Spence, 1826)
Sericostoma personatum is the only member of the Family Sericostomatidae found in Ireland, and the sole representative of the genus in Britain and Ireland. It is a species whose larvae can be found in rivers, streams and stony lakes. Its substratum preference ranges from sand to cobble, while it can also be found in particulate organic matter and woody debris. Sericostoma personatum has a rather distinctive case, made of glued-together sand grains. The species has a preference for neutral to alkaline waters.
Sericostoma personatum has a semivoltine reproductive cycle (one generation in two years) and lives longer than one year. Its feeding ecology falls almost entirely in the shredder category, with some evidence of predation.
Characteristic features of the larva of Sericostoma personatum include the accessory hooks present on the claws of the anal proleg and an anterior-lateral corner of the pronotum either prolonged or angular, never smoothly rounded.
A feature of the adult male of the species is the highly modified maxillary palp, which forms a mask-like structure over the front of the head.
Adults of Sericostoma personatum can be found on the wing from (April) May to September.
Records of Sericostoma personatum on the National Biodiversity Data Centre mapping system can be found here.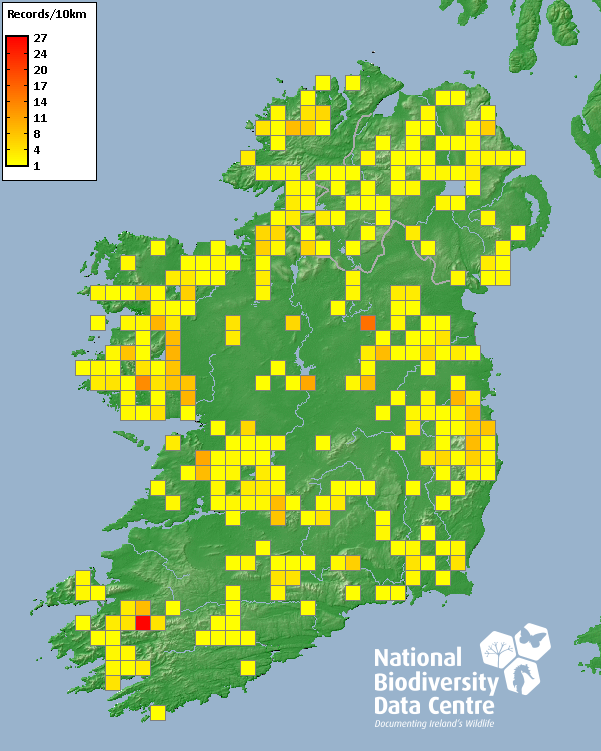 References
Barnard, P. and Ross, E. (2012) The Adult Trichoptera (Caddisflies) of Britain and Ireland. RES Handbook Volume 1, Part 17.
Barnard, P. and Ross E. (2008) Guide to the adult caddisflies or sedge flies (Trichoptera).Field Studies Council AIDGAP. ISBN 978-1-85153-241-4.
Graf, W., Murphy, J., Dahl, J., Zamora-Muñoz, C. and López-Rodríguez, M.J. (2008) Distribution and Ecological Preferences of European Freshwater Species. Volume 1: Trichoptera. Astrid Schmidt-Kloiber & Daniel Hering (eds). Pensoft, Sofia-Moscow.
O'Connor, J.P. (2015) A Catalogue and Atlas of the Caddisflies (Trichoptera) of Ireland. Occasional Publication of the Irish Biogeographical Society, No. 11.
Wallace, I.D., Wallace, B. and Philipson, G.N. (2003) Keys to the Case-bearing Caddis Larvae of Britain and Ireland. Scientific Publication of the Freshwater Biological Association No. 61.
Last updated: 09/04/2018
Save