Species profile: Philopotamus montanus
August 26, 2014
Philopotamus montanus (Donovan, 1813)
Philopotamus montanus is one of five members of the Family Philopotamidae found in Ireland, and the sole Irish representative of the genus. This species can be found in upland, stony streams, often with rapids running over boulders. The substratum preference ranges from coarse gravel to boulders, with high current velocities. Philopotamus montanus has a preference for neutral to alkaline waters (pH ≥ 7) and is a filter-feeder, building long, tubular nets attached to rocks; feeding on small, particulate matter. The species exhibits a univoltine reproductive pattern.
The larvae of the Family Philopotomidae can be readily separated from those of other families by the fact that they possess a white membranous labrum, with a brush-like anterior margin, as opposed to a sclerotized labrum. Philopotamus montanus is identified by the presence of a shallow, v-shaped notch in the anterior margin of the frontoclypeus. In addition to this, the black pigment band running along the side of the pronotum is contiguous with the black band running across the rear of the pronotum.
Adults of Philopotamus montanuscan be found on the wing from February to October.
Philopotamus montanus is also known by its common name yellow spotted sedge.
Records of Philopotamus montanus on the National Biodiversity Data Centre mapping system can be found here.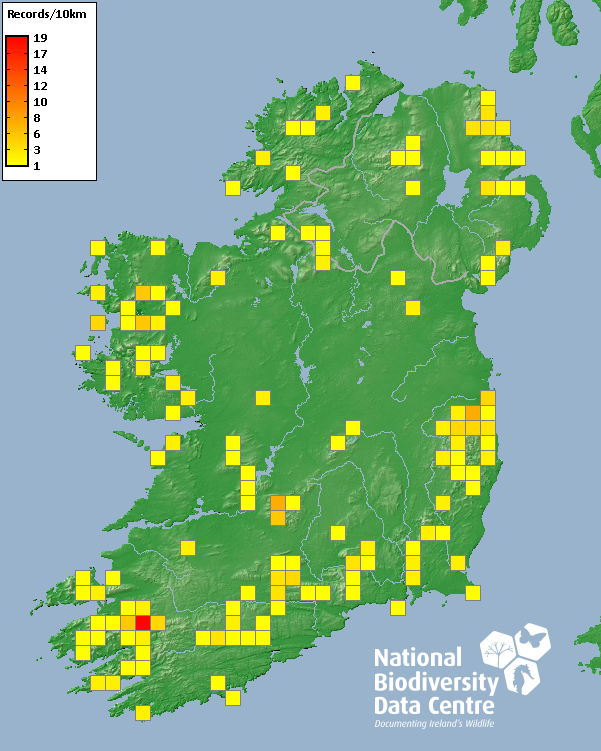 References
Barnard, P. and Ross, E. (2012) The Adult Trichoptera (Caddisflies) of Britain and Ireland. RES Handbook Volume 1, Part 17.
Edington, J.M. and Hildrew, A.G. (1995) A Revised Key to the Caseless Caddis Larvae of the British Isles: with notes on their ecology. Freshwater Biological Association Special Publication No. 53.
Graf, W., Murphy, J., Dahl, J., Zamora-Muñoz, C. and López-Rodríguez, M.J. (2008) Distribution and Ecological Preferences of European Freshwater Species. Volume 1: Trichoptera. Astrid Schmidt-Kloiber & Daniel Hering (eds). Pensoft, Sofia-Moscow.
O'Connor, J.P. (2015) A Catalogue and Atlas of the Caddisflies (Trichoptera) of Ireland. Occasional Publication of the Irish Biogeographical Society, No. 11.
Last updated: 15/03/2018
Save