The Trichoptera (caddisflies) of Ireland dataset is now available through the Global Biodiversity Information Facility (GBIF) via the National Biodiversity Data Centre (www.biodiversityireland.ie).
GBIF is an international open data infrastructure available on-line at www.gbif.org. The facility allows people all across the world to access and download data on species, including systematics and distribution, via the internet. The available data are provided to GBIF by researchers around the world through a system of nodes: institutions that gather data at a national level and provide it to GBIF. The Irish National Biodiversity Data Centre (NBDC) is the national node for Ireland.
I am delighted that the dataset I have put together and made available through the NBDC is now even more widely available and is there for researchers around the world to use in their work.
Molanna albicans(Zetterstedt, 1840)
Molanna albicans is the only member of the Family Molannidae found in Ireland. It is a species whose larvae can be found in slow-flowing rivers or lakes in Ireland, on a substratum of sand or fine gravel. This species has a most distinctive case, made of glued-together sand grains, which consists of a teardrop-shaped shield with a tubular case that the animal inhabits underneath. This case acts as excellent camouflage against the substratum, making the larva difficult to see except when it moves, which it does by means of jumps.
The larva of Molanna albicans has a number of distinctive features that aid in its identification apart from its case (the 'wings' of which can break off, causing it to lose its distinctive shape). The tibia of the 1st leg has a ventral process, which ends in a strong seta or spine. In addition, the tarsal claw of the 3rd leg has a number of fine spines, which are most distinct in the final instar and less so in earlier instars.
Adults of Molanna albicans can be found on the wing from May to September.
Molanna palpata McLachlan, 1877 is a subjective synonym for Molanna albicans.
Records for Molanna albicans on the National Biodiversity Data Centre mapping system can be found here.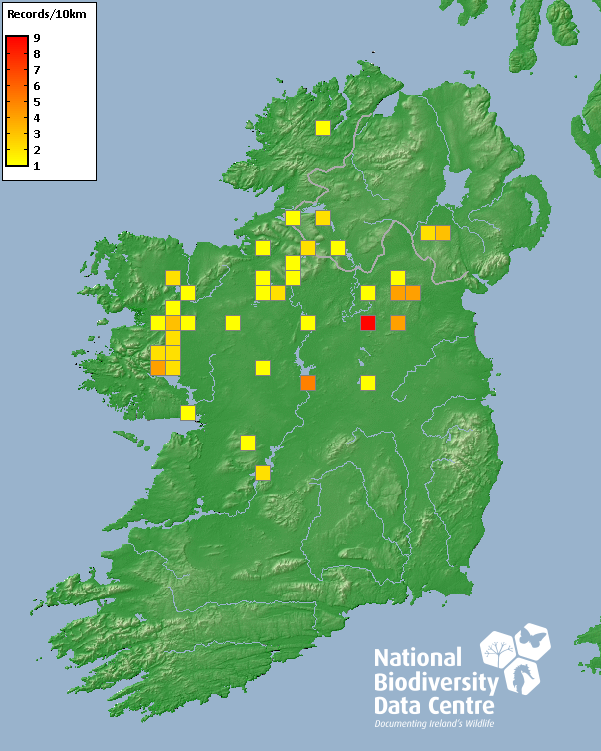 References
Barnard, P. and Ross, E. (2012) The Adult Trichoptera (Caddisflies) of Britain and Ireland. RES Handbook Volume 1, Part 17.
Prof. Hans Malicky. Molanna albicans (Zetterstedt, 1840). Accessed through: Fauna Europaea at http://www.faunaeur.org/full_results.php?id=411037
O'Connor, J.P. (2015) A Catalogue and Atlas of the Caddisflies (Trichoptera) of Ireland. Occasional Publication of the Irish Biogeographical Society, No. 11.
Wallace, I.D., Wallace, B. and Philipson, G.N. (2003) Keys to the Case-bearing Caddis Larvae of Britain and Ireland. Scientific Publication of the Freshwater Biological Association No. 61.
Last updated: 09/04/2018